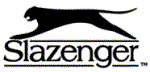 We Accept Check or Charge Cards

Promotional Products ?

• Promoting branch openings
• Introducing new products
• Motivating salespeople
• Opening new accounts
• Stimulating sales meetings
• Developing tradeshow traffic
• Activating inactive accounts
• Changing names of
products /companies
• Sales aids as door openers
• Motivating consumers
• Moving products to dealers
• Improve customer relations
• Introducing new salespeople
• Motivating employees
• Promoting new facilities
• Building an image
Custom Imprinted with Your Logo/Branding
Slazenger
Expect performance. Slazenger. Trust it to deliver. Since 1881 Slazenger has been outperforming the competition-on playing fields, courts, and courses. Its symbol is fearless, representing power, poise and prowess. And it's emblazoned on only the finest sporting equipment in the world. Make it yours.

custom branded with your logo