Americana Patriotic
Awards and Trophies
Bags Imprinted
Balloons Imprinted
Bands - Bracelets n more
Books make Great Gifts
Buttons and Badges
Calculators
Calendars & Planners
Computer Related
Desk Promo Ideas
Drinkware
Electronics Gifts
Environmentally Safe
Flash Card Full Color
Frames Promote Brands
Fun Stuff-Brand Builder
Gift Certificates
Greetings-CDs-Cards
Golf Headquarters
Gourmet Food Gifts
Health Realated Promos
Key Tags
Laminated Messages
Lifestyle Gift Ideas
Lights Pocket & More
Magnet Source
Mugs and Drinkware
Natural Promotions
Outdoor Promo Ideas
Padfolios-Portfolios-Bags
Promote on a Paper
Patriotic Products
Plaques in Excellence
Political Promotions
Recycled Products
Rolodex - Rotary Cards
Promote Safety
Seasonal Promotions
Stress Relievers
Tattos - Colorful Branding
Technology Promotions
Trade Show Ideas
Travel Related Promos
Tools and Tape Measures
Umbrealla Custom
Watches
Wearables and Related
Wristlocks Wristbands
Promote by Category
Home
Promote by Brands
Catalog of Promos
Flip Catalogs
Specials Sale
IDEA Center
About Adsources.com
FAQ
Order Form

We Accept Check or Charge Cards


Books make Great Gifts

THINK BOOKS!
Be Different, Be Creative, Be Remembered !!!
Think Books with Your Branding
The Benefits of Books as Promotional Products
The variety of topics (over 3 million currently published available) allows you to provide books for every possible audience, both general and targeted (i.e. women, nurses, volunteers)
The right book reinforces your brand, values, mission and vision
Books are long lasting keepsakes…never thrown away
Books will be read, displayed and shared…multiplying your exposure
Books carry a high perceived value
Books fit a wide range of price points (from $1.00 to $100)
Books offer space for dramatic customization…More than just a logo, Promo-Pages and Custom Book Jackets offer a large area to feature full-color artwork, a detailed message, photographs, contact information, and more.
People & Companies who give books are…
Considered thoughtful, caring and sincere
Seen as intelligent, sophisticated and worldly
Firmly identified with the message conveyed by the book
Committed to a vision with depth and insightfulness
Credible and have a high level of integrity
Remembered long after the gift is given
Top Uses for Books
Gifts
Books are thoughtful gifts, appealing to the heart
as well as the head.

Customer & Employee Appreciation
Books provide genuine sentiment and heartfelt words that other promotional items cannot express.

Employee Motivation & Training
Books promote employee discussions and interaction. Top authors help you to provide concrete ideas and inspiring thoughts.

Events & Parties
Books reinforce an event's meaning or location, creating long lasting memories.


Successful Ideas
CORPORATE GIFTS
THANK YOU GIFTS
MEETINGS INCENTIVE TRAVEL & MORE
TRADE SHOWS
MOTIVATE & INSPIRE
DIRECT MAIL
EMPLOYEE TRAINING
PRODUCT INTRODUCTIONS
---
CORPORATE GIFTS
Many Fortune 1000 Companies chose our exclusive, high-end coffee table books as gifts for partners, customers and employees. Diverse industries including Financial, Telecommunications, Real Estate, Manufacturing and many others have chosen our 4-color Promo-Pages to express their company's mission, marketing message or just to say "Thanks".
Real Estate Gifts
Major mortgage companies, builders, brokers, developers and property managers have chosen our Then & Now Series books as the perfect gift to promote their businesses in these major U.S. cities. Use our 4-color Promo-Page to show a photo of your latest project, the building you own or manage or to say "thanks for choosing us" to buy your new home. Sure to grace the coffee table and become the hottest topic of conversation in your clients home or office.

Corporate Identity
A major insurance company, located in the center of one of our Then & Now cities, chose to announce a major corporate acquisition by using our book as the invitation to their shareholder event. Benefiting from our 4-color Promo-Page format, they were able to show a color photo of their skyscraper headquarters building. The books were such a great success that they re-ordered a much larger quantity for sales people, executives and others to use to promote their company.

Political Lobbying Gifts
A major political action group from California chose our On My Mind book to promote their cause to legislators and others. This group chose our 4-color Promo-Page to present their mission statement and then added their logo in gold foil on the book's jacket. Guaranteed to be remembered and displayed on office coffee tables, the exposure they received was impactful and lasting.

New Home Gifts
Construction companies, architectural firms, real estate agencies and mortgage companies have all chosen our Then & Now series as the perfect promotional gift. The unique and intriguing contrast between historic and current photographs highlights the architectural changes and growth of these great cities. Our Promo-Pages offer the perfect space for 4-color letters, logos and more.
---
THANK YOU GIFTS
Customized books make a lasting impression. Say "Thank You" for buying a product, opening an account, taking time, making a donation or just to show your employees and friends that you care.
Customer Appreciation
A large financial company chose our book To Your Success as the perfect gift for their small-business clients. The inspirational quotations reflected this company's themes of Dream, Team, Care and Dare. Each book featured a 4-color Promo-Page wishing their clients success.

Fundraiser Gifts
A national non-profit organization chose our book Heart as a gift to be mailed to anyone who donated a certain amount during their fundraising campaign. By adding a Promo-Page to each book, they were able to charity's mission.

Hotel Guest Gifts
A chain of upscale boutique hotels chose our Explore journal as a pillow gift for each of their hotel rooms during a promotion to "explore" the cities where they owned hotels. A Promo-Page was included in each book that listed the chain's locations, toll-free reservation line and website address.
---
MEETINGS, INCENTIVE TRAVEL & MORE
Create a lasting impression for your next meeting, incentive program, conference or seminar by giving the gift of a beautiful photographic coffee table book, guide book or music CD.
We have supplied meeting planners and incentive companies more than 100,000 destination specific gifts for travel programs worldwide. Contact us to learn more about our direct hotel delivery program and avoid the high costs of international freight for many locations.
Corporate Meetings
A major software developer chose our San Francisco Photographic Celebration as a gift for attendees of a major meeting of their sales people from around the country. By adding their logo to the book's jacket in gold foil and a 4-color Promo-Page featuring a personal message from the company's president, the books became a memorable keepsake

Incentive Travel Room Gifts
A major insurance company chooses our books every year for their big trip to reward their sales people. Though the destination has changed yearly from Mexico to Cape Town to Sydney, we have been able to provide them with high-quality, photographic coffee table books, delivered directly to their hotel, for each and every host city.
---
TRADE SHOWS
Our Good Life Series books (page ) and Collector's Series Cookbooks (page ) have proven to be successful traffic-builders! Use them in advance to promote attendance or hand them out at your exhibit as an appreciation gift that will guarantee they'll remember your company.
A surgical equipment manufacturer gives regional cookbooks to customers that visit their annual trade show. Three years later, customers come to their booth specifically to collect the new book in the company's cookbook series.
Trade-Show Promotions
A manufacturer of medical equipment chose our Collector's Series cookbooks to build loyalty and increase their booth traffic. After handing out our books of regional recipes at four shows, their repeat clients now line up to collect the new cookbook from their series. This company provides us with custom designed book covers (front and back) that mirror the artwork used in their pre-show mailers and other promotional tools.
---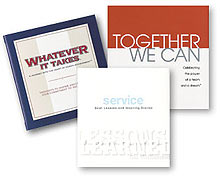 MOTIVATE & INSPIRE
Our motivational quotation books and journals will successfully drive your team to success! With more than 25 titles to choose from, your employees, partners and friends will want to collect the whole series.
Employee Motivation
A major food company chose our book Whatever It Takes to motivate their top sales people. This book of inspirational quotations is separated into sections including The Dream, The Goal, The Commitment, The Drive and other meaningful themes that echoed this company's vision and direction.
---
DIRECT MAIL
Everyone loves to receive, read, share and collect books!
Sign-Up Gift
A professional basketball team chose our Then & Now book for anyone who registered for season tickets by a deadline date. A Promo-Page featuring a message from the team's coach and president as well as the team logo made each book a collector's item for basketball fans.

Holiday Gifts
Instead of their normal holiday cards, a major insurance company chose our book Spirit to mail to each of their corporate customers. By adding their logo to the cover and a Promo-Page to each book, they were able to convey their holiday sentiments and guarantee a lasting impression.
---
EMPLOYEE TRAINING
Retail Store Training
A major chain of retail clothing stores provided a copy of our book Service to inspire superior customer service from their sales staff. The National Sales manager used our Promo-Page as a letter offering a personal message to his team.

Safety Programs
A major trucking company chose our Sports Illustrated Greatest Feats book to highlight the record breaking safety of their drivers and other employees. Their Promo-Page was designed to match one of the pages of the book, featuring a group photo of their employees and the number of accident-free, safe days that they had for each month and the year.
---
PRODUCT INTRODUCTIONS
Whatever your theme or target audience, we have a book to make a powerful impression. In quantities of 5,000 or more, we offer you the ability to mirror your advertising campaign message and art on any book's cover and include product information inside each book.

We are your resource for pharmaceutical promotions! Stricter promotional guidelines have forced these companies to seek more affordable and medically relevant promotional items with books being among the short list of expectable items. Whether for trade shows, sales people to leave behind at a physician's office, patient or physician education…
---


in USA

More Related Ideas
OUR BUSINESS IS PROMOTING YOUR BUSINESS
Promotional Products by Brands or Categories
Make them Remember
YOU and YOUR Business


Promotional Products ?

• Promoting branch openings
• Introducing new products
• Motivating salespeople
• Opening new accounts
• Stimulating sales meetings
• Developing tradeshow traffic
• Activating inactive accounts
• Changing names of
products /companies
• Sales aids as door openers
• Motivating consumers
• Moving products to dealers
• Improve customer relations
• Introducing new salespeople
• Motivating employees
• Promoting new facilities
• Building an image

Click to Search
By Category
By Price
By Word

Want Small quantity Fast
Just Click Here
to Order online